---
Rhythm & Uke - Abe Lagrimas, Jr.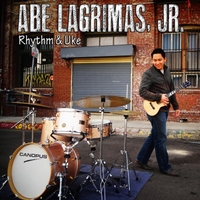 It's time to celebrate a new release by Abe Lagrimas, Jr. Drums and acoustic bass provide the foundation, while melodic ukulele lines finish things off. Whether it's blues, jazz, folk, contemporary or solo, a jewel is waiting to found in this collection of tunes.

---
Chordette

Chordette is a free ukulele chord library program that can be used as a stand-alone application, or in conjunction with a word processing program, such as Word. As a stand-alone, it provides a handy interface for looking at uke chords in first and second position on the fretboard.

---
Chordsongs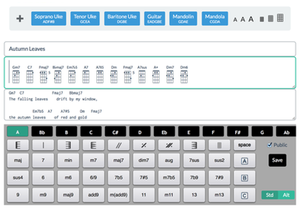 Chordsongs is a free Web app for desktop and laptop computers. It provides a simple interface for creating chord charts. Chords for six tunings are available: Soprano Uke (ADF#B), Tenor Uke (GCEA), Baritone Uke (DGBE), Guitar (EADGBE), Mandolin (GDAE), and Mandola (CGDA). You only need to create a chord chart once. Selecting a different tuning will convert your song to that tuning.