---
Ben Rouse - Love of Rin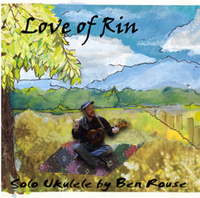 Ben Rouse first started on guitar at the age of 11 and by the age of 14 he was already playing in clubs and venues in many different bands as a lead guitarist. Still new on the ukulele scene, he has already played to thousands of people and appeared on TV as well as radio. His first solo ukulele album "Love of Rin" is available and has been delightfully received. Ben is keen to show the world the wonder, potential and diversity of the ukulele.

---
Transpose Tool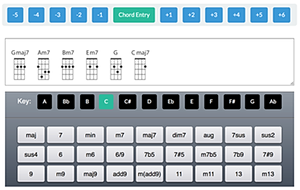 The Transpose tool is for exploring various keys of songs you play or want to learn. Enter the chords to a song, and display chords in any key.

---
Chordsongs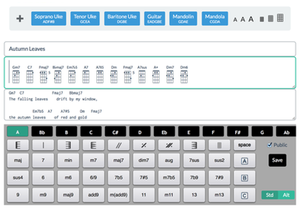 Chordsongs is a free Web app for desktop and laptop computers. It provides a simple interface for creating chord charts. Chords for six tunings are available: Soprano Uke (ADF#B), Tenor Uke (GCEA), Baritone Uke (DGBE), Guitar (EADGBE), Mandolin (GDAE), and Mandola (CGDA). You only need to create a chord chart once. Selecting a different tuning will convert your song to that tuning.