---
Low G - Kimo Hussey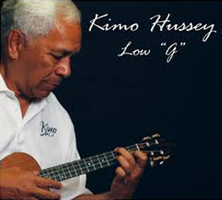 "Low G" by Hawaii's master ukulele artist and instructor, Kimo Hussey, is an instrumental collection of favorites hailing the harmonies created by the sound of the "low G" string. Like many islanders, Kimo grew up playing the ukulele. Inspired by a favorite uncle, he developed a deep passion for the tiny instrument with big potential, developing his skills far beyond his peers.

As founder of the Ukulele Guild of Hawaii and Pacific Music Foundation, Kimo is celebrated for creating beauty in simplicity. Listen to "Low G" and discover how this master blends melody with rhythm into the brilliantly mellow sound which as taken him all over the world as a performer and instructor.

---
Transpose Tool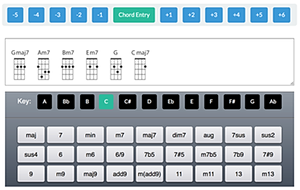 The Transpose tool is for exploring various keys of songs you play or want to learn. Enter the chords to a song, and display chords in any key.

---
Chordsongs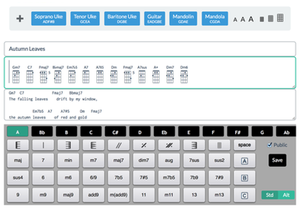 Chordsongs is a free Web app for desktop and laptop computers. It provides a simple interface for creating chord charts. Chords for six tunings are available: Soprano Uke (ADF#B), Tenor Uke (GCEA), Baritone Uke (DGBE), Guitar (EADGBE), Mandolin (GDAE), and Mandola (CGDA). You only need to create a chord chart once. Selecting a different tuning will convert your song to that tuning.